After a devastating race in Davao at the Ironman 70.3 in March, I had lost all hopes to be able to finish Ironman Philippines in June. But as the weeks passed by, and after a couple of strong finishes along the way, I decided to go for my 4th long distance triathlon – my 33rd triathlon in total, and now I am more than happy that I finished the race on June 11, 2023!
Looking back at Ironman 70.3 Davao, I had committed just a few mistakes too many: not enough heat adaptation, lack of sleep, wrong nutrition, poor bike fitting, a far too optimistic bike strategy (I had burnt out during the first 45 kms already, I believe), and a few other things that I am going to analyze in one of our next podcast episodes. It really took me a while to rebuild my self confidence.
But, my self confidence and mental strength came back. As I did it already back in 2017, I had joined Giro d'Luca – a beautiful bike event over three days and 500 kms of cycling across the province of Bohol. I think that the Giro is a perfect cycling event as preparation for longer triathlon events like an Ironman or a 70.3. This time, it took place from April 28 – 30, and I was surprised about my bike fitness – despite the fact that I had missed some training days due to a flue in April.
I was cycling big portions of the Giro with William, an Italian who is based in Davao City (thanks again for being my cycling buddy for a couple of days!) and I had also met Reuven (congrats to your 2nd place in Subic and for qualifying for Worlds in Nice!) who was cycling on a TT bike like myself. I was curious and found out that he was training for Ironman Philippines in Subic. Somehow, I felt motivated again to do the race, or let's say consider to do it.
After the Giro, I did a random 10k fun run in Camiguin after cycling around this beautiful island, and joined the Dipolog Triathlon once again.
It was kind of an anniversary, since my very first triathlon in the Philippines was also the Dipolog Triathlon back in 2013. I had an overall great race, even though I just missed the podium. But I was very confident again to race in Subic 5 weeks later!
My last weeks of preparation were rather unorganized, since Bea and I were traveling across the whole country. In fact, I was in constant travel mode since mid March covering Cebu, Davao, Bohol, Siargao, Siquijor, Camiguin, Dipolog, Puerto Princesa, Port Barton, El Nido, Clark, Banaue, Sagada, Vigan City, San Fernando, Subic, and Manila until we left the Philippines again on June 14.
But still, I felt that the last months of training were consistent enough. After a few years of struggling with my patella, I had finally found a way to deal with my issues, and started training again back in Madeira (Portugal) in January 2022. After my very first ultramarathon (50k) in December, I started my more strategic training together with triathlon-coach and podcast co-host Jorge.
Race Day in Subic
My biggest fear was the Philippine sun, and for many weeks I had put together a plan on how to put up with the heat. I tested sodium tablets, salt sticks, hot shots, did a sweat test, and other things to be prepared. But in the end, there was not sun at all! Quite the opposite, the rainy day prior to race day gave an idea of what all athletes might have to face during the event. KikayRunner's Youtube video captured some of the moments:
After a very tough swim, I started the first round on the bike and was wondering, if it was possible at all to finish the race under these circumstances. The rain was so strong that it hurt on my lips and I could barely see anything at times. On the way back, headwinds and crosswinds joined the fun. I had to make a few stops for my personal needs bag, and to fix my flat tyre around km 95. I think that my many long cycling sessions during the past months helped me a lot to just keep going and finish the bike section.
I had also read a book about mental strength by Matt Fitzgerald, a couple of books by David Googins and Rich Roll`s "Finding Ultra" (of course) that somehow helped me in those moments. Even though my bike split was rather slow (in Roth I did a 5:22 – but this was about 7 years ago), I was happy to start the run.
My biggest concern during the run were my feet. At Tabuelan 226, my last long distance triathlon back in 2017, my feet were so wet and soft that I literally cut them open during the run, making it impossible for me to continue running, even walking hurt. The night before, I was researching tipps on how to deal with rain and wet feet during a marathon. I figured that vaseline (Petrolum jelly) and compression socks (with an extra pair of socks in the personal needs bag) might do the job.
And indeed, I had no blisters and no other issues – except for hurting Achilles tendons right from the start. Still, I managed to keep a steady pace during the first two rounds. To run negative splits (as planned) was out of discussion for me, even though I tried at times. After round three and slowing down a bit, I changed into a dry pair of socks and got rid of my hydration backpack that I had carried during the whole bike ride (with my sodium tablet solution) until now. I also continued the run with my lighter New Balance Solvi instead of the heavier Brooks Glycerine, and finished the race officially after 13:17:18 hours.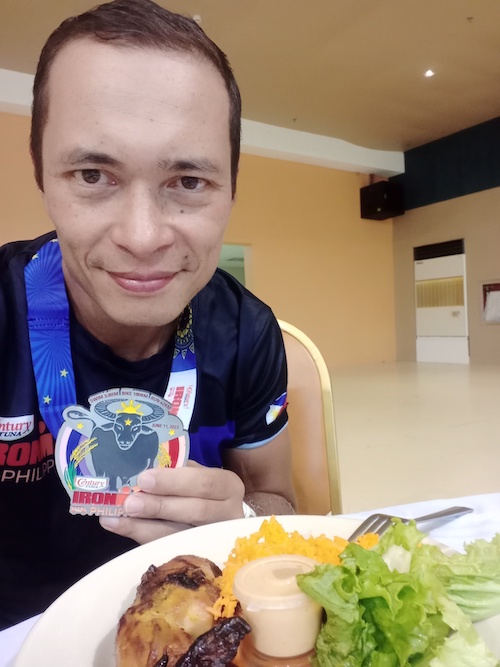 This meant 15th place for me in my age group (40-44), and it seems that it would have qualified me for the Ironman World Championships in Nice, since the 16th placer happily took a slot (congrats!). A few years ago, it was one of my biggest dreams to qualify for Worlds (either full or 70.3) but for now, I am just grateful for being able to do this sport that I had started more than a dozen years ago.